Welcome to Taupo's only Glamour salon. We have created a salon environment that provides top service in a relaxing and luxurious atmosphere. We proudly stock La Biosthetique hair products which is a boutique product supplier, only supplying to a selective group of salons in the world. Over the past 50 years La Biosthetique has earned a strong reputation in the beauty world, built on quality products, innovations and holistic services. These products aid us in giving our clients in our opinion top products and services. We value everyone of our clients and show this by Our promise to our clients: -Always having a warm welcome into the salon and greeted with a smile. -knowing that you can come into the salon and be able to relax in a beautiful atmosphere. -Being offered the best services by on going staff training, which will also ensure that your stylist is kept up to date with the latest trends and styles. -Offered the latest salon specials and receiving complimentary in-salon treatments just as a thank you for being a Crown Glamour client. So don't miss out on your chance to be Glamorous begin your Crown Glamour journey today. Follow us on Facebook to keep up with whats happening https://www.facebook.com/crownglamour **Oxipay** We have now made getting your hair done even easier and have teamed up with the team at Oxipay to offer our clients a part payment plan. You can easily pay your hair off over 4 easy fortnightly payments. If you would like to find out more information or sign up to Oxipay, feel free to pop through to their website https://oxipay.co.nz/ Or send us a message through our website or jump on over to our Facebook page to get a almost instant reply. :) www.facebook.com/crownglamour **Cancellation Policy** All cancellations or reschedules require a 24 hour notice or they will be subject to charges. Appointments canceled or rescheduled with less than 24 hours notice will result in charge of half price of the scheduled service. Appointments that are missed that neglected to give notice (No show, No call) will result in charge of the full price of the scheduled service. **Deposits** Deposits are required when making a time with us to secure your stylist at your chosen time. All appointments require a $20 non refundable deposit and will come off the final total on the day. These deposits can be popped through using our Paypal account or bank account. Please contact the Crown Glamour Team if you have any further questions.
Nikki
Up and coming stylist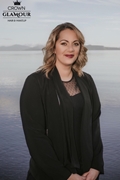 Nikki is our new training up and coming stylist that has a huge passion for hairdressing. She is a bubbly, happy and extremely welcoming. Nikki always likes to make sure that her client is completely looked after and is pampered and relaxed. Nikki loves to make your hair feel amazing with her incredible blow waving and straightening skills. We have created an amazing price list range especially for Nikki to treat her new clients with, so why not sit back and let Nikki ok after you today. :)
Leeza
Owner, director, stylist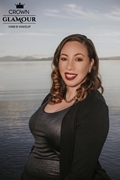 I have 9 years experience in the hairdressing industry, I am truly passionate about all aspects of hairdressing and cant wait to share my passion with every one of our clients. Our salon specializes in the art of hairdressing and will continue to learn and grow with the trends. Keep watching our Facebook page for daily updates and latest special. We don't want anyone to miss out on the Crown Glamour Journey. Look forward to beginning your journey
Haylee
Head Makeup Artist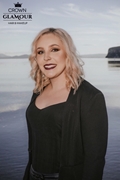 Haylee is a fully qualified and highly trained makeup artist. She absolutely loves to pamper and beautify all of our clients and works with you to create a flawless base, the perfect contour and enhance your natural beauty to have you looking the best for all occasions. Haylee also offers in salon hair treatments with the most amazing head massage and our brand new service our famous La Biosthetique hand and arm massage. You can rest easy knowing you are in expert hands with Haylee.
10b 29 Totara shopping centre, Totara point, Taupo
073774408
Tuesday

Wednesday

Thursday

Friday

Saturday

9:00am - 7:00pm

9:00am - 5:00pm

9:00am - 7:00pm

9:00am - 5:00pm

9:00am - 2:00pm